January/ February 2022 Health & Care Academy
Virtual 12 Jan 2022 at 4:00pm
The Suffolk and North East Essex Health and Care Academy is offering a virtual course during January and February to anyone aged 14-18 who is living or educated in Suffolk or North East Essex, who would like to gain an insight into working in Health and Care. Delivered by the Next Generation programme, the aim of this series of free virtual sessions is to encourage and inspire young people thinking about a career in this area to find out more and have the chance to speak to frontline Health and Care professionals.
Don't delay REGISTER HERE for your place on the programme today!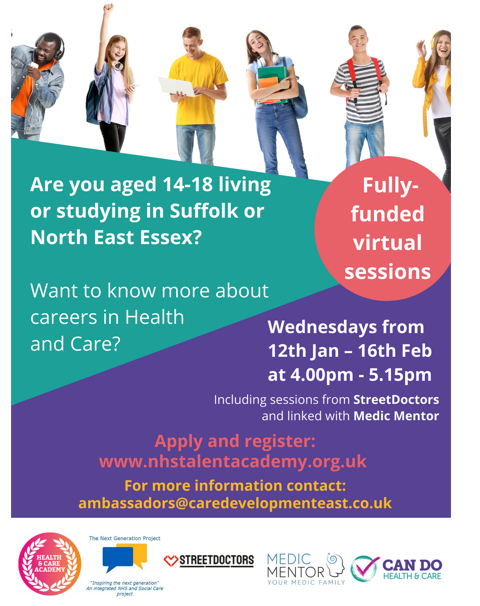 This academy course is being delivered virtually via Microsoft Teams every Wednesday evening January 12th – February 16th 2022 from 4pm – 5.15pm.
It will include insight sessions into careers such as Nursing, Midwifery, The Ambulance Service, General Practice and more. By attending the Academy you will also have the opportunity to access the fantastic Live Virtual Work Experience Programme offered by Medic Mentor and the final session will be dedicated to a virtual First Aid in the Community session, teaching lifesaving skills for bleeding injuries.
This programme is the first step in accessing information about working in the Health and Care sector and the range of careers available. On completion of the short course, participants are also awarded a certificate of participation which will look great on CVs and will help at future university applications and job interviews.
Feedback from previous participants of Health and Care Academies: –
"The Academy was an amazing experience and would highly recommend it for anyone wanting to go into health or social care and to anyone to just would like to gain more knowledge about health care"
"I found the academy enjoyable and I feel I have gained a greater understanding of health and care. Hearing from many different professionals form such varied backgrounds was incredible interesting and informative. The academy has also opened my eyes to other careers in health and social care settings"
"I benefitted from the fact we get to ask questions as when you're studying in college the majority of the time you get taught the knowledge but don't get the honest insight into what it's actually like as your teacher isn't experienced in that sector."
"Thank you very much! I learnt so much about jobs that I hadn't previously considered."
Don't delay REGISTER HERE for your place on the programme today! Search for 'January / February Health & Care Academy'.
CLOSING DATE FOR APPLICATIONS – 7th January 2022
View all events